From the Shelf
Aging and the Stories We Tell
What better way to begin another year than to read books about getting older?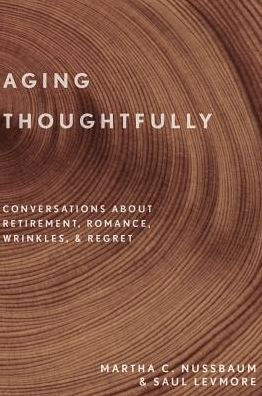 "We need to keep searching for stories of aging in order to expand our grasp," Martha Nussbaum writes in Aging Thoughtfully: Conversations about Retirement, Romance, Wrinkles and Regret (Oxford Univ. Press, $24.95). Nussbaum and Saul Levmore exchange provocative essays-as-discussion in a book that is "about living thoughtfully, and certainly not about dying, gracefully or otherwise."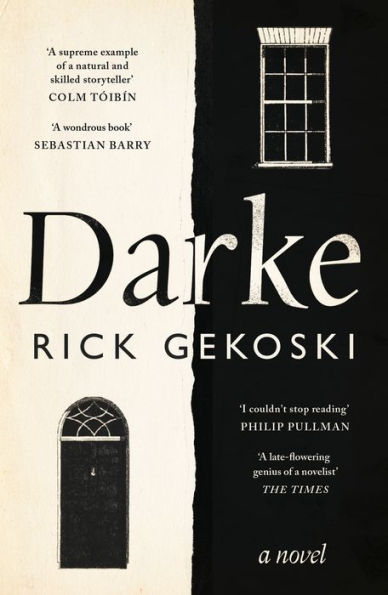 In Rick Gekoski's amazing novel Darke (Canongate, $25), Dr. James Darke chronicles ("This journal? A coming-of-old-age book, dispirited, hopelessly knowing.") his self-imposed exile ("I am become a thing of darkness."). The tale is appropriately dark, but also smart, witty ("Mr. Eliot includes himself among the damned. I like that in a poet."), poignant and unexpectedly tender.
"Apart from a few setbacks, I have been lucky all my life," writes Diana Athill in Alive, Alive Oh!: And Other Things That Matter (Norton paperback, $14.95), a slender, wonder-filled memoir published when she was a mere 96 years old. Last month, just before her 100th birthday, she observed in a live Guardian webchat: "I feel very much like I always did. I'm more confident now. That's one of the great advantages of getting older--one does grow out of minding what other people think of you, which is great."
With today's release of Ali Smith's Winter, I'll put in a plug for Autumn, the first novel in her planned quartet. The intricate relationship between Elisabeth, a young woman, and Daniel, an old man, is mind-altering. "Time travel is real, Daniel said. We do it all the time. Moment to moment, minute to minute."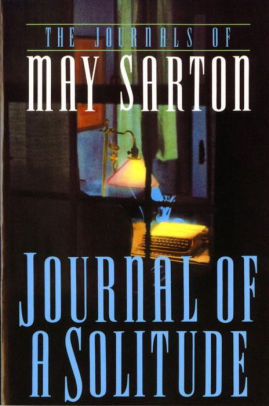 During my 20s, I discovered May Sarton's Journal of a Solitude (Norton, paperback, $15.95), written when she was about 60. All of her journals (At Eighty-Two appeared shortly after her 1995 death) are rare gems. When I was young, I felt she was speaking directly to me. Now, so many years later, she still does, if in a different tone. As reader and writer, we are finally contemporaries: "At any age we grow by the enlarging of consciousness." --Robert Gray, contributing editor

In this Issue...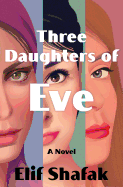 Three Daughters of Eve follows a young Turkish woman trying to define her faith and herself in Istanbul and Oxford.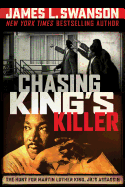 Completing a trilogy on American heroes, James L. Swanson's Chasing King's Killer provides stunning, side-by-side accounts of the lives of Martin Luther King, Jr., and his assassin, James Earl Ray.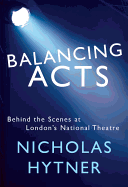 In this entertaining and insightful memoir, a successful director of London's National Theater illuminates the work of creating good art, building audiences and paying the bills.
Review by Subjects:
Fiction ⋅ Mystery & Thriller ⋅ Food & Wine ⋅ Biography & Memoir ⋅ Social Science ⋅ Science ⋅ Children's & Young Adult

Book Candy
Literary Holidays
The holidays are over. Long live the holidays. Bustle showcased "11 literary holidays you need to add to your calendar if you're a book-lover."
---
"Are you a backward books kind of book nerd?" Flavorwire asked, noting "a few beautiful examples of this divisive decorating trend."
---
"These vending machines dispense short stories instead of snacks," Mental Floss reported.
---
"Where do I think best? In bed." Authors revealed their dream retreats to the Guardian.
---
"You need to see this ice hotel's Game of Thrones rooms," Buzzfeed advised.

Travel Book Success in the Digital Age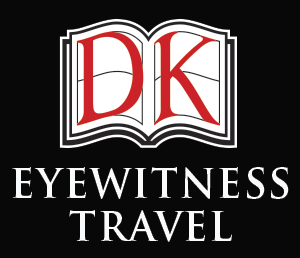 Excellent graphic design, striking photos and detailed, useful maps distinguish DK Eyewitness Travel guides from the competition. "We believe the best way to plan your trip and get excited about a place is to see it, so high-quality photography and illustrations are absolutely at the heart of our guides," said publisher Georgina Dee. "With color maps, museum floorplans and street-by-street illustrations, our guides let you fully immerse yourself in a destination before you've even set foot on the plane."

Only a decade or so ago, when many in the business predicted that digital books and the Internet would lead to the imminent demise of printed books, travel guidebooks were considered to be one of the most vulnerable categories. The travel market has changed considerably, but printed travel guides continue to be popular, if not more popular than ever.

Dee pointed to one reason that dire predictions didn't come true: "The Internet is a vast, unwieldy beast that takes time and effort to tame. The curation of our guides does that taming for you, while giving you enough information to make your trip unique to you."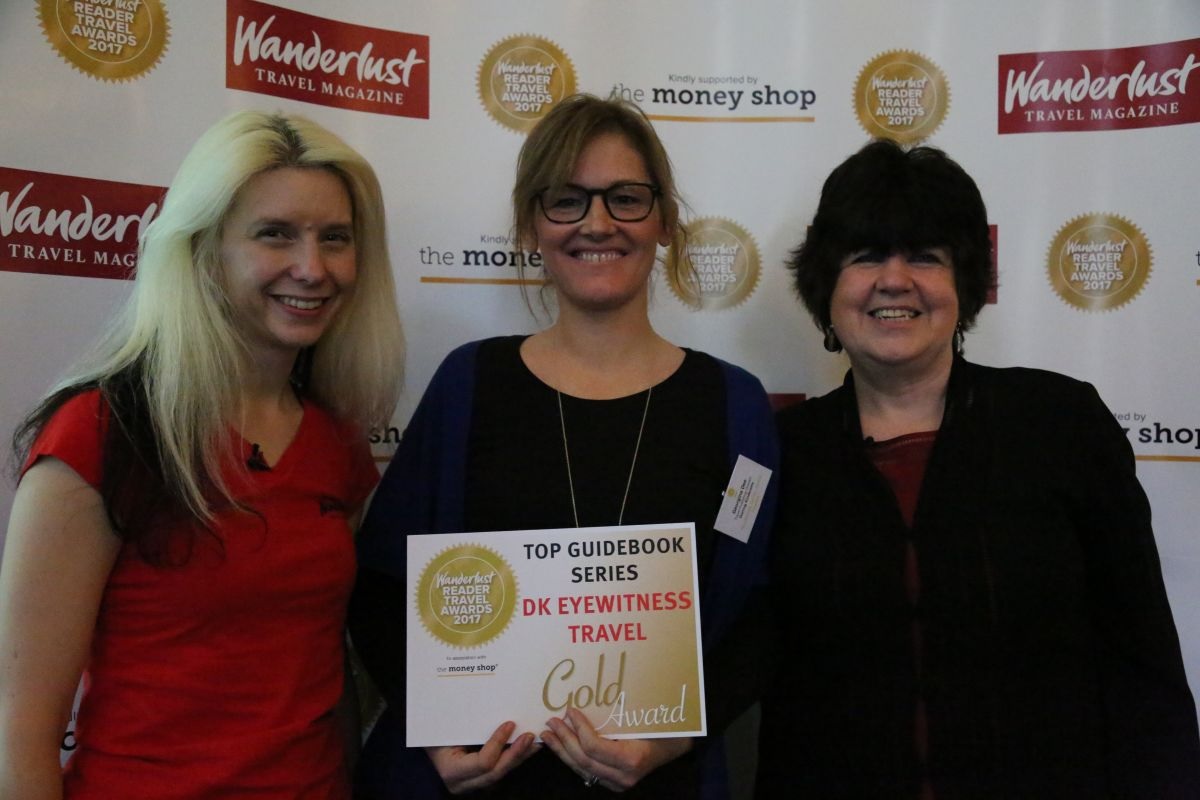 Georgina Dee (center); photo: The Bookseller
Several other factors include that many people like to take a break from digital devices while traveling. Dee observed: "Poring over a printed guide while sipping your morning coffee is a calm and sociable experience. Sitting across from your travel partner while you're both on your phones is just not the same."

But in this digital age, DK Eyewitness Travel books are a good bridge between digital and print: their visual emphasis is helpful for "a digital population who is used to pictures first and words after," as Dee put it.

To keep up with the digital world, DK invests a lot into revising its guides and is updating more and more of its guides on an annual basis. The company wants, Dee said, "to offer our consumers the confidence that what they are reading has been recently revised and updated."

In fact, in the digital age, the travel guide has taken on a new, important role. For many travelers, the book is the first tangible thing involved in travel planning. "Gone are the days of paper tickets and travel brochures, so for many this will be the first part of your trip that you can hold in your hands," Dee said. "It's the first time you can really start getting excited."

In addition, browsing travel guides in bookstores is important for prospective travelers. As Dee put it, "Travel guide sections are always full of people with wistful travel in their minds."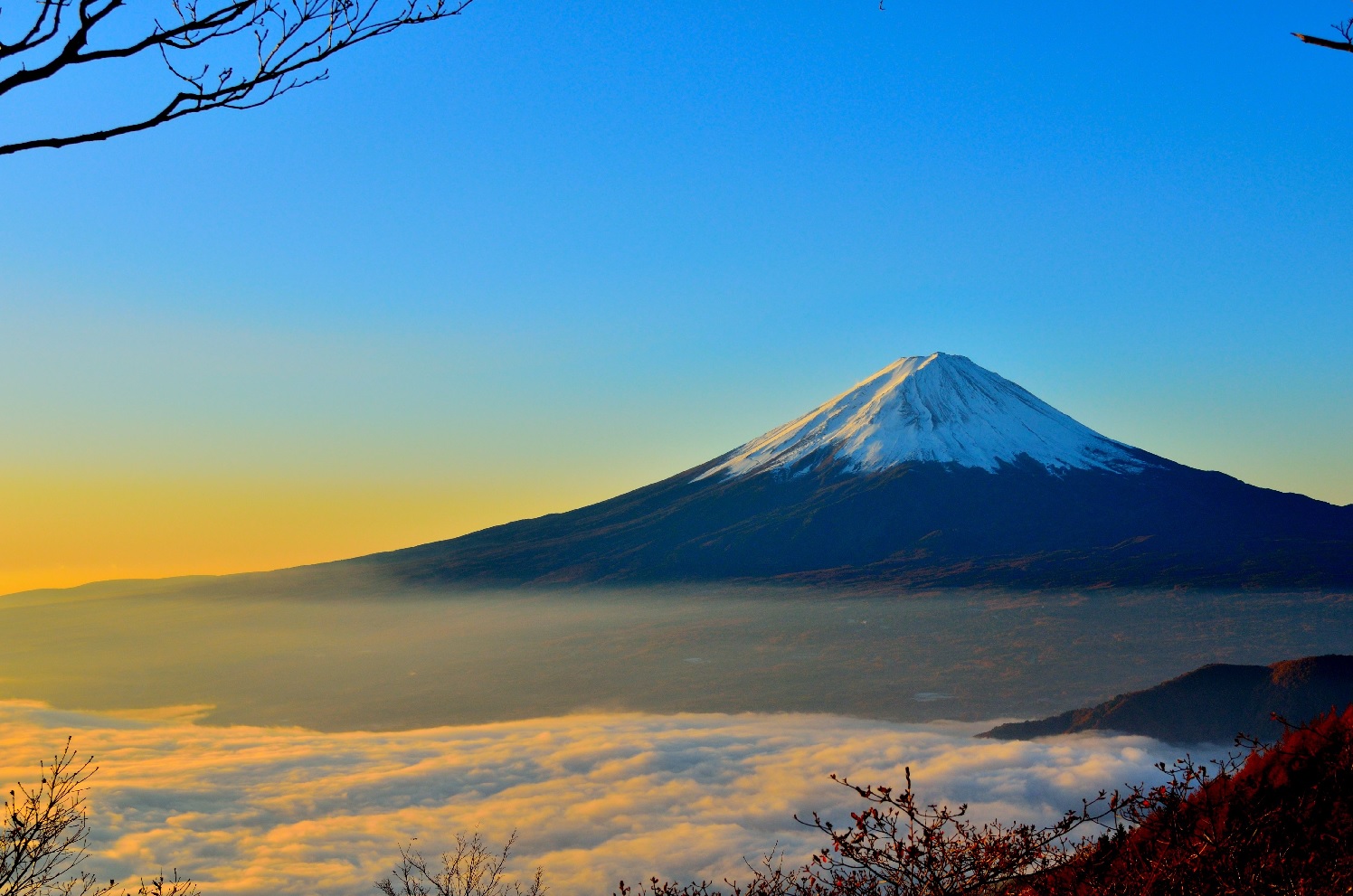 Top Destinations for 2018
Among likely top destinations for those prospective travelers in the coming year are Malta, South Africa and Japan, in part because of celebrations of anniversaries, sporting events and major recognition. Malta's capital, Valetta, is European Capital of Culture in 2018, which will include many festivals. And, besides, the tiny island national boasts sun, sand and sea--and 7,000 years of fascinating history.
2018 is the centennial of Nelson Mandela's birth, which will give rise to a range of celebrations in South Africa, from arts exhibitions to sporting events. All of these will complement the country's vibrant cities, fine wine, rugged coastline and world-famous wildlife.
Japan is preparing to host the Rugby World Cup in 2019 and the Summer Olympics in 2020, making next year a good time to see the country's modern cities and ancient temples--before the crowds descend.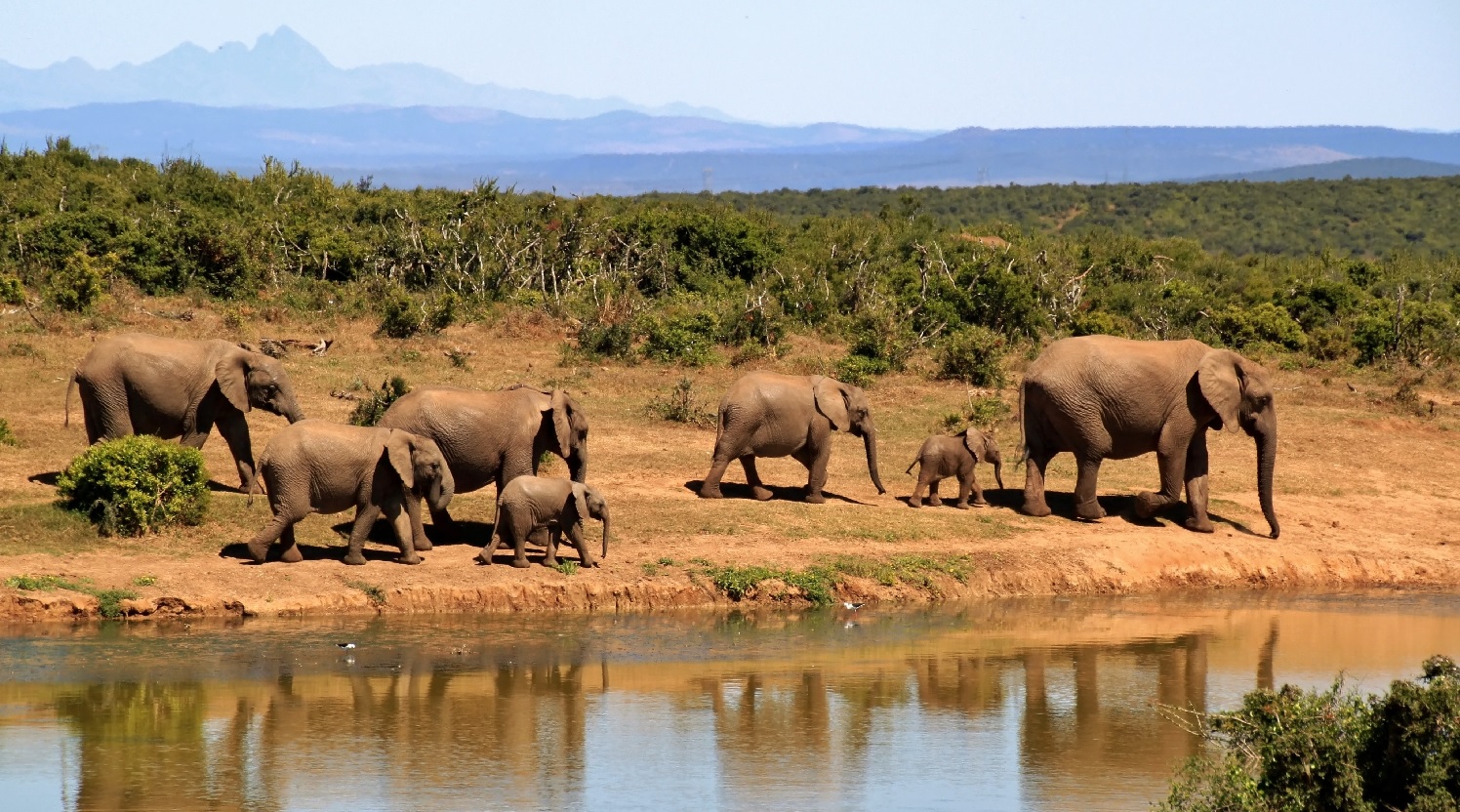 In addition, in a heartening change, Paris, a perennially popular destination, has been "coming back slowly after being overshadowed by tragedy," Dee said.
All the same, in global travel, destination is "not necessarily king anymore," she added, explaining that more people are traveling far and wide for specific experiences--whether to go to the best restaurant in the world or to see a favorite band at a festival or to learn to paint in a lovely setting. In those cases, the destination and what it has to offer comes secondarily.
DK Eyewitness Travel Guides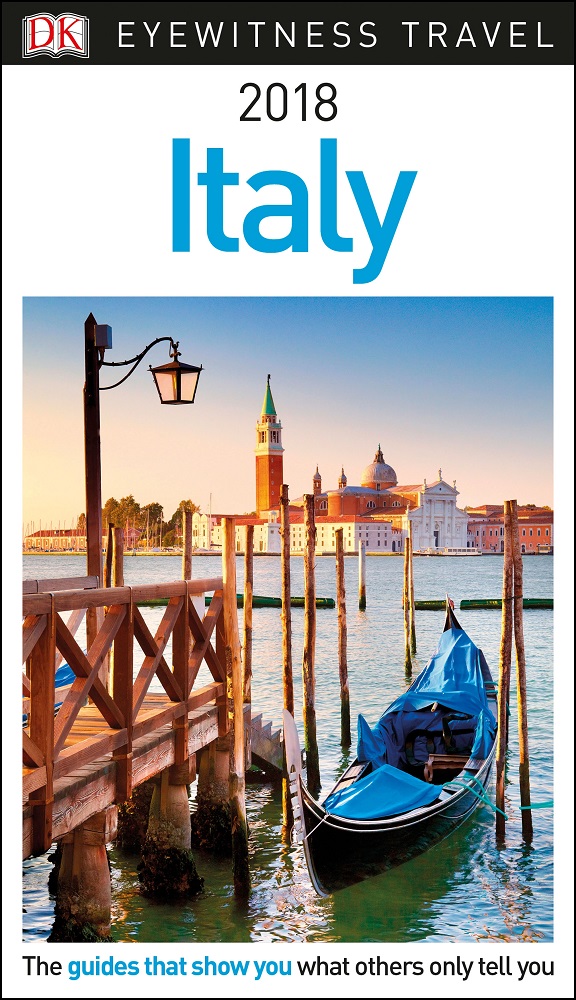 DK Eyewitness Travel Guide: Italy
Discover the best sights to see in the fifth most visited country in the world--from a gondola ride down Venice's Grand Canal, to exploring the medieval streets of Bologna or marveling at the treasures displayed at Florence's Uffizi Gallery--all of which are brought to life with photographs and illustrations. In-depth reviews of shops, restaurants, and hotels from expert insiders, including food and wine guides for each area, will help to plan the perfect trip.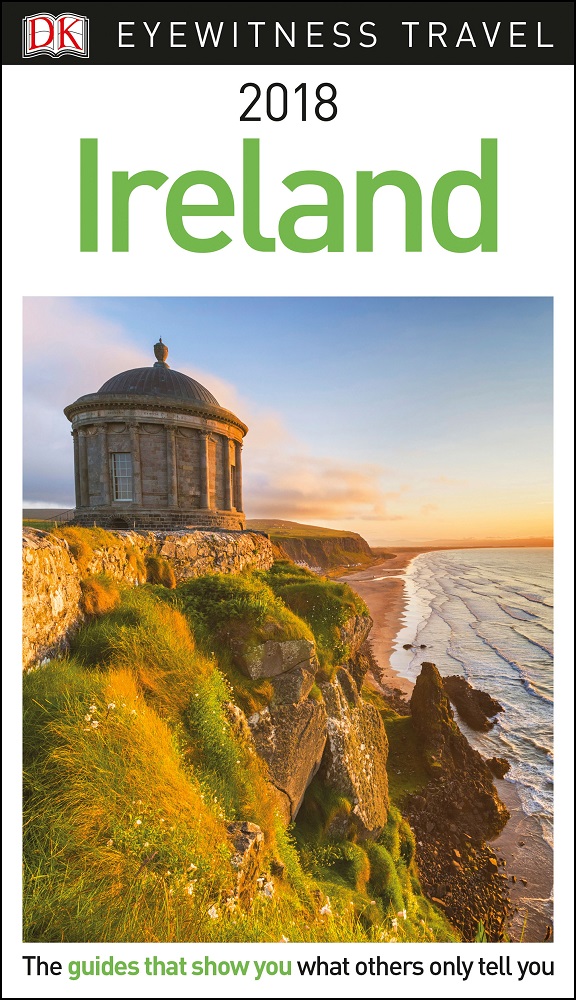 DK Eyewitness Travel Guide: Ireland
Explore the beauty, culture and history of the Emerald Isle. Discover Dublin's finest cultural icons with a visit to Trinity College and see the Book of Kells. Explore the medieval Rock of Cashel and Celtic archaeological sites at Newgrange and the Hill of Tara. Outdoor lovers can enjoy the beaches along the Southeast coast, see the wonder of Northern Ireland's Giant's Causeway and tour the western seaboard on the Wild Atlantic Way from Cork to Donegal. This guide also covers the top hotels, shops, and restaurants in Ireland.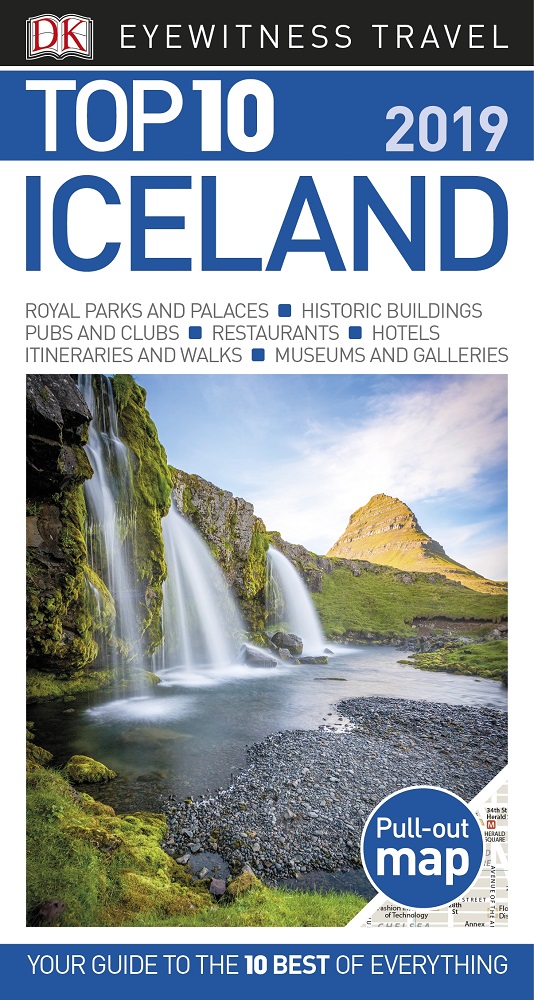 DK Eyewitness Travel Guide: Top 10 Iceland
See stunning glaciers and geysers or the bewitching northern lights, visit the beautiful national parks, or experience the vibrancy of Reykjavik with this newly updated and redesigned pocket travel guide. Rely on dozens of Top 10 lists--from the Top 10 waterfalls, the Top 10 volcanoes and hot springs, and the Top 10 museums in Reykjavik; there's even a list of the Top 10 things to avoid. The guide is divided by area, covering all of Iceland's highlights, with reviews for restaurants and hotels.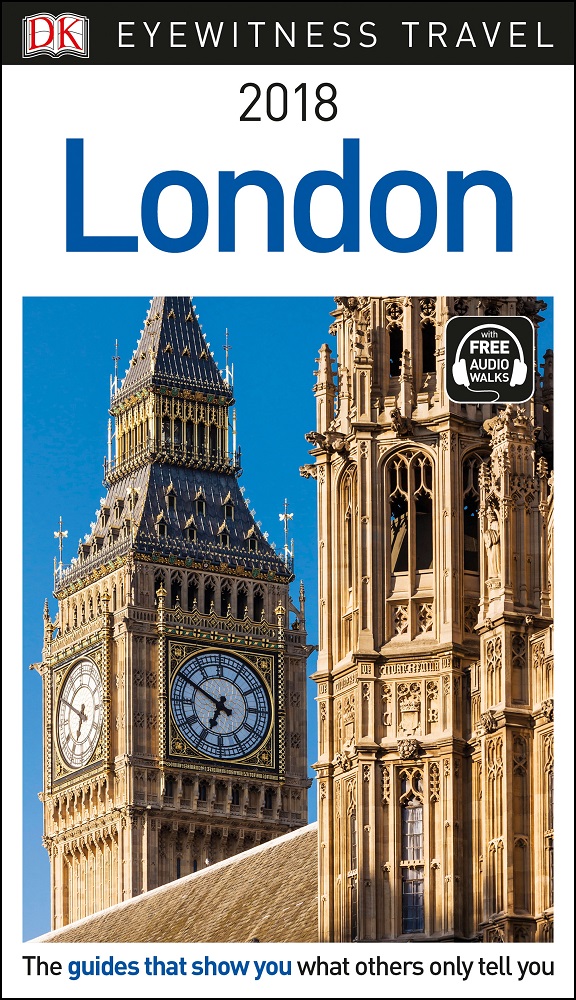 DK Eyewitness Travel Guide: London
Discover the spectacular sights of a truly historic and cosmopolitan city. This guide now includes a free audio download of five walks around the city, from Buckingham Palace to the British Museum, all of which are showcased with photographs, illustrations, floor plans and detailed descriptions. Explore the cobbled streets of Covent Garden, eat in the best restaurants in London and join the hustle and bustle in Borough Market with maps, reviews and insider information.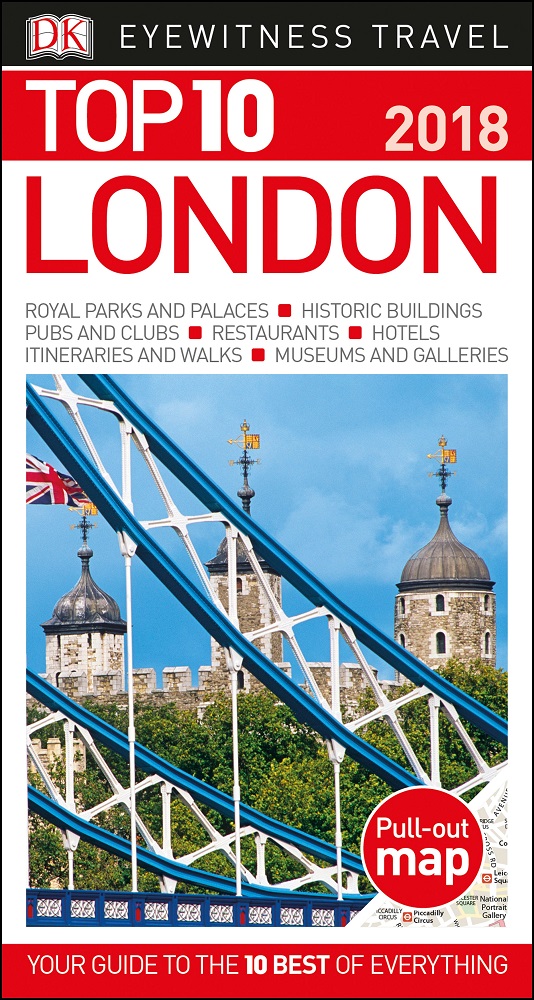 DK Eyewitness Travel Guide: Top 10 London
This guide features Top 10 lists of the best places to visit in London, from the British Museum and Buckingham Palace to the greatest pubs. Thirteen itineraries explore the city's most interesting areas--from the cobbled streets of Covent Garden to the vibrant East End--with reviews of London's restaurants, hotels and shops.


DK Eyewitness Travel Guide: New York City
Discover the sights of a truly iconic city with this guide, which now includes a free audio download of five walks around the Big Apple--from Ellis Island to the top of the Empire State Building. Rise to the heights of Freedom Tower, discover restaurants in Brooklyn or paddle around the Lake in Central Park using photographs, illustrations, floor plans and detailed descriptions.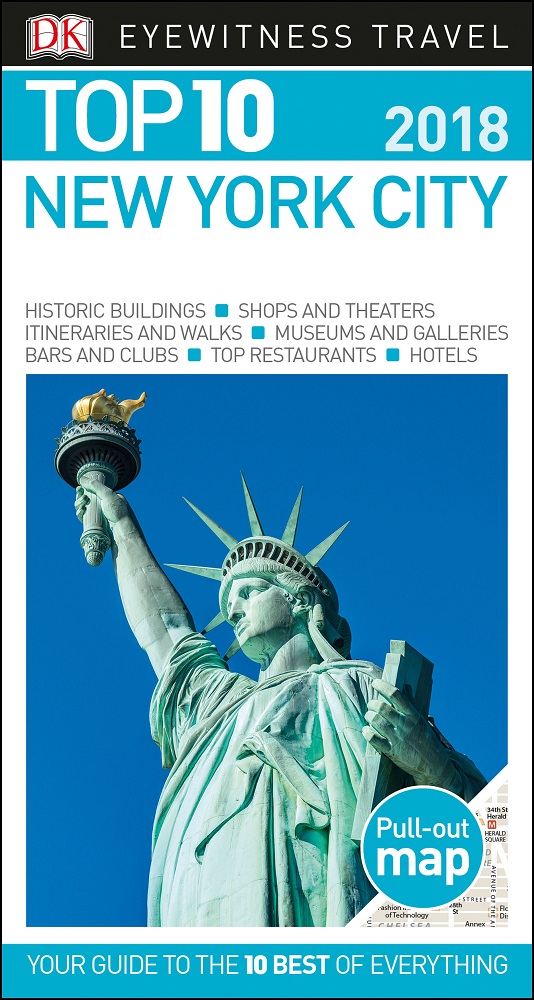 DK Eyewitness Travel Guide: Top 10 New York City
Top 10 lists outline the best New York attractions, from Times Square and the Statue of Liberty to the city's world-class shopping. Fifteen itineraries explore everywhere from vibrant Chinatown to the leafy Upper East Side, with reviews of New York's best restaurants, hotels and bars.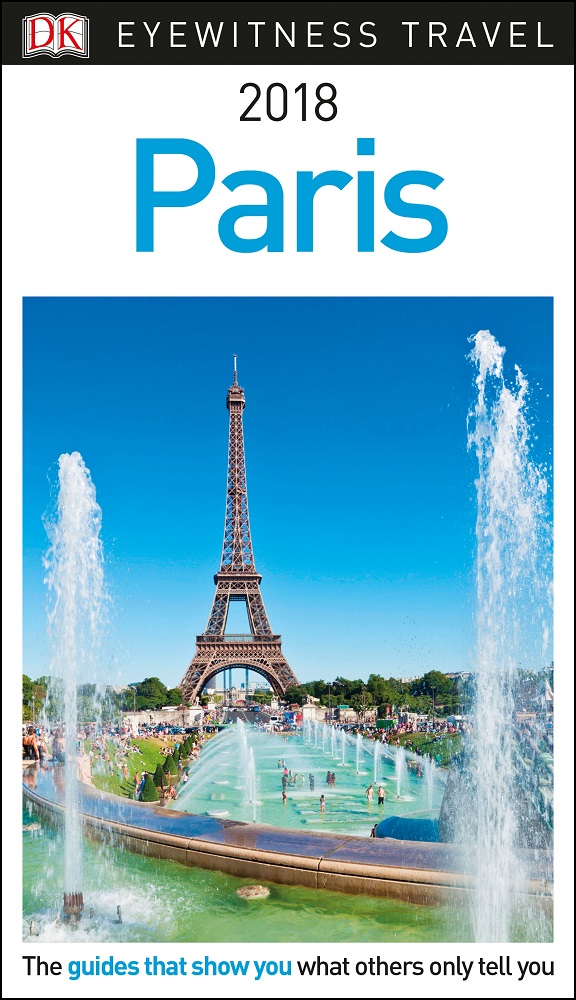 DK Eyewitness Travel Guide: Paris
This guide helps visitors find both unmissable Paris landmarks and sights off the beaten track. The best places to visit in Paris--from the splendid Sainte-Chapelle, the iconic Eiffel Tower and the art treasures in the Louvre to the St-Germain quarter of the Jardin du Luxembourg--come to life with photographs, illustrations and floor plans. Eight walks reveal the city's lesser known pleasures, and come with insider tips on everything from restaurants, cafés, shopping, activities for children and river boat tours.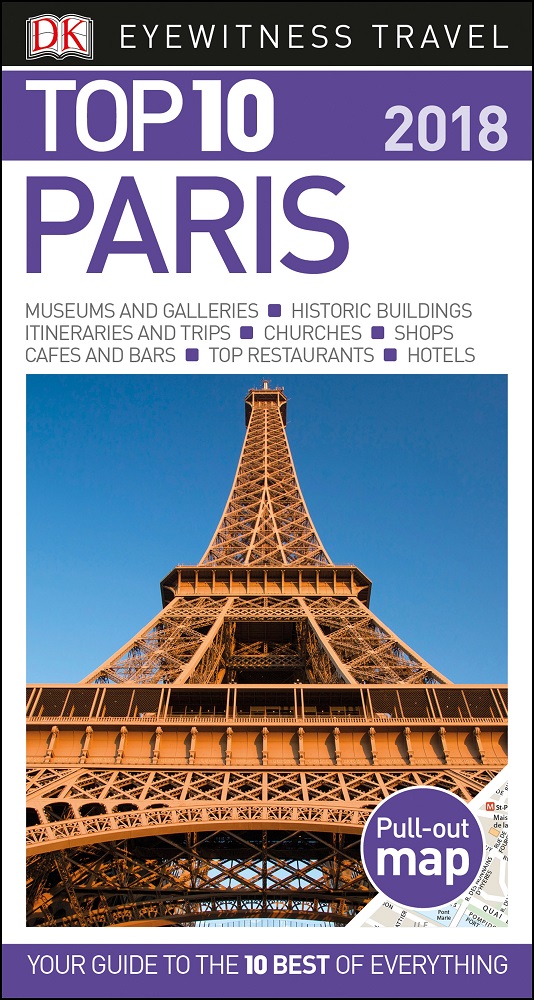 DK Eyewitness Travel Guide: Top 10 Paris
This pocket-sized guide reveals the best places to visit in Paris, from the Eiffel Tower and Notre Dame to the top Paris restaurants. Thirteen itineraries explore the city's most interesting areas--from the historic Ile de la Cité to the coolest bars in St-Germain and the Latin Quarter--while reviews of Paris's best hotels, cafés and shopping help plan your perfect trip.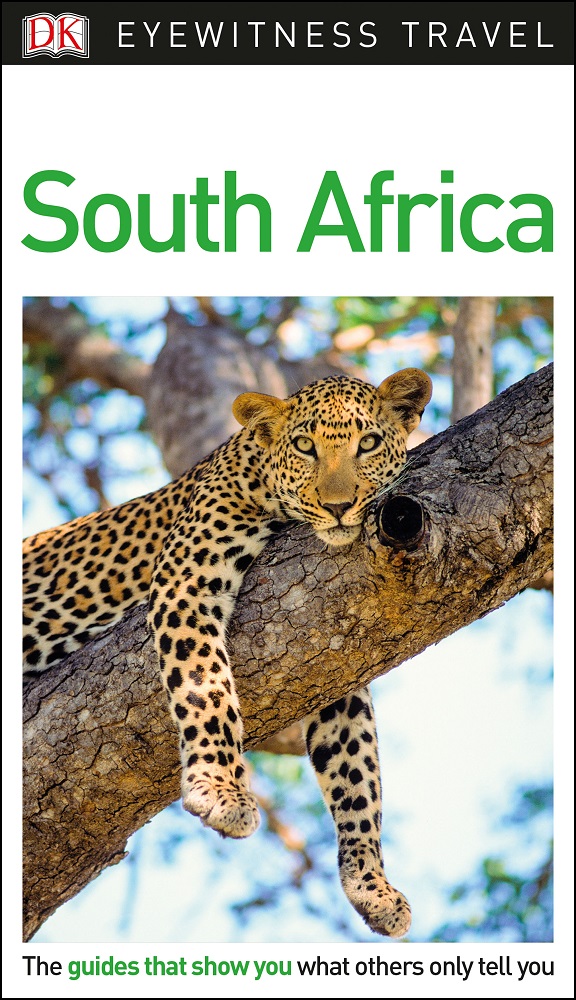 DK Eyewitness Travel Guide: South Africa
From the wilds of Kruger National Park, to cosmopolitan Cape Town, to the lush western cape winelands and the stunning beaches along the Garden Route, this guide leads straight to the greatest attractions in this fascinating country. Get insider tips on everything from the best shopping, restaurants and hotels, to outdoor activities such as whale-watching, surfing and hiking, as well as practical information on how to get around. As a bonus, a comprehensive field guide--which includes the birds of South Africa--helps get the most out of any safari.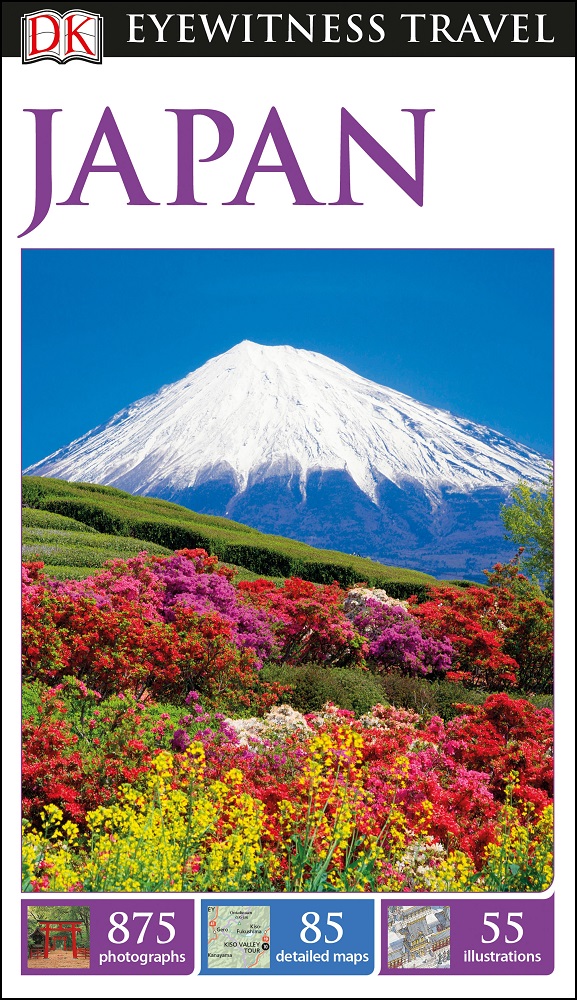 DK Eyewitness Travel Guide: Japan
This guide will lead you straight to the best attractions this beautiful country has to offer. Explore Japan's busy city streets, historic temples and beautiful culture, from Tokyo, Kyoto and the rest of Japan's exciting cities.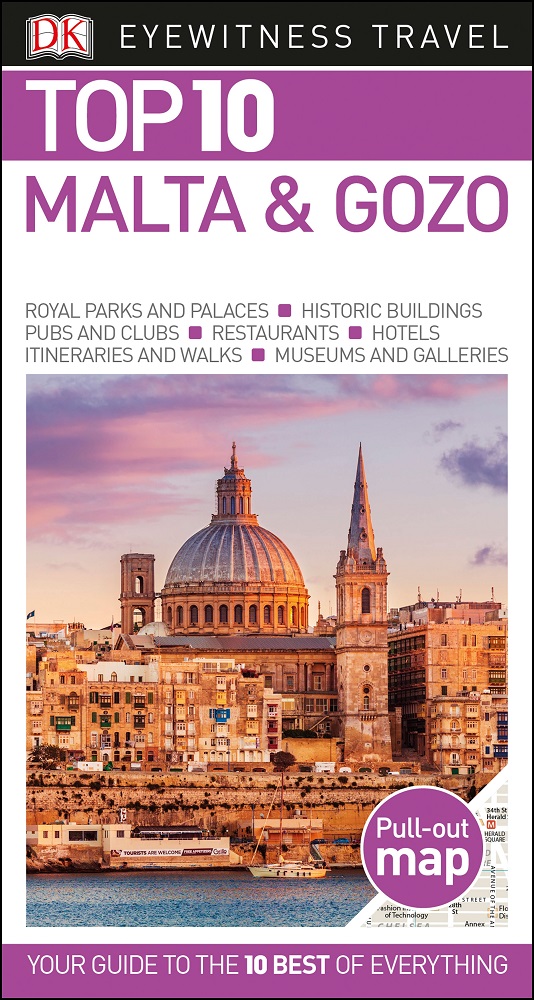 DK Eyewitness Travel Guide: Top 10 Malta & Gozo
Take spectacular island walks and drives to experience the area's natural beauty, tour charming towns and villages, or visit fascinating temples and ancient sites. This guide includes hotel options for any budget, and gives fun ideas for enjoying Malta and Gozo with families and children.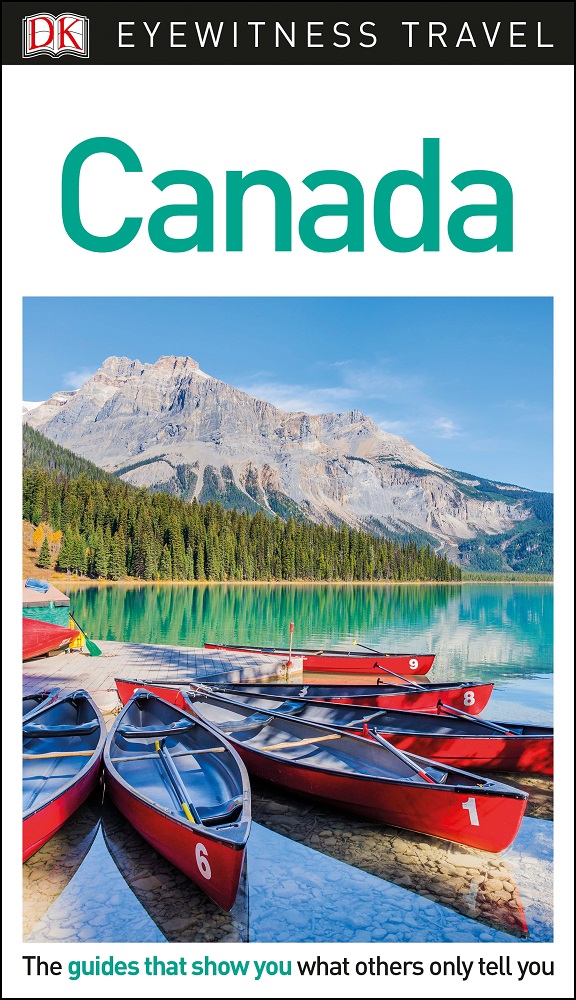 DK Eyewitness Travel Guide: Canada
This guide has everything necessary to plan the trip of a lifetime, whether that includes snow sports in the Canadian Rockies, witnessing the power of Niagara Falls, or simply discovering the best restaurants in Montreal. Photographs and detailed descriptions, plus illustrations and floor plans, show the best places to visit in Canada--from the quiet beauty of Prince Edward Island to Vancouver's buzzing nightlife and top things to do in Toronto.
Order these titles and more here!

Book Reviews
Fiction

Three Daughters of Eve
by Elif Shafak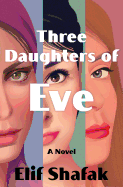 Turkish novelist Elif Shafak (Honor) tells the story of Peri, a wealthy Turkish housewife, through vivid dual timelines in Three Daughters of Eve. On her way to a dinner party in Istanbul, Peri has her handbag stolen. Fighting with the thief to recover her property, an old photo emerges from her wallet: a shot from her time as a student at Oxford University, of herself, two other young women and the enigmatic professor who fascinated them all. As Peri drives to her dinner engagement, she is caught in a swirl of memories triggered by the photo: not only her years in Oxford, but her childhood in Istanbul.

As a teenager, Peri is caught between her mother's religious fervor and her father's defiant secularism. At Oxford, she becomes attracted to her teacher, the charismatic but difficult Professor Azur, who delights in provoking his students. She is pulled between Shirin, a fun-loving, foul-mouthed, liberated British transplant from Iran, and Mona, a devout and passionate Egyptian American. When the three girls agree to share a house, their arguments about faith and feminism grow ever more intense, and Peri wonders if it was all a ploy set up by Azur.

The present-day narrative in Istanbul allows Peri to view her past actions from a distance, though the plot device of a terrorist attack in the city seems oddly irrelevant. However, Shafak deftly captures Peri's struggles with faith, her attempts to please the people she loves and her ongoing attempts at "the art of feigning happiness." --Katie Noah Gibson, blogger at Cakes, Tea and Dreams
Discover: Three Daughters of Eve follows a young Turkish woman trying to define her faith and herself in Istanbul and Oxford.
Bloomsbury, $27, hardcover, 384p., 9781632869951

Ultraluminous
by Katherine Faw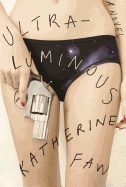 The multi-aliased narrator of Katherine Faw's raunchy but cerebral Ultraluminous throws the heart-of-gold hooker cliché out the window. A high-end prostitute, she services only wealthy finance kingpins, one for each weekday--johns identified only by their habits and habitats, like the "junk-bond guy," the "art guy" and the "calf's brain guy." At home on the streets of her native New York City, she is freshly returned from a decade in Dubai, where she honed her trade while living with a bomb-making boyfriend she calls "the Sheikh." Faw's plot, such as it is, consists of snippets of the narrator's days and nights suggesting a pattern of sex, Duane Reade sushi, flirting with her branded heroin delivery guy, cherry bombs at a cop bar, galleries, mani-pedis, more sex, yoga, shopping at Time Warner Center and pierogis at a Polish diner. Beneath this circadian mosaic, however, is an inner life of ennui and resentment toward her clients. When she hooks up (for love) with a troubled "ex-Army Ranger guy" who has a closet full of guns, her path begins its turn toward what becomes an inevitable destructive conclusion.

Raised middle class in Wilkesboro, N.C., Faw was an outlaw kid with a taste for drugs and punk rock--which she worked to great effect in her spunky first novel, Young God, featuring a precocious 13-year-old Appalachian drug-dealing girl. Ultraluminous is equally daring with its balance of the crude and the lyrical, the routine with the kinky. It is a compact, piercing portrait of a woman taking charge of her unorthodox life. --Bruce Jacobs, founding partner, Watermark Books & Cafe, Wichita, Kan.
Discover: Raw, observant and sexy, Katherine Faw's second novel is an uncompromising story of a resourceful prostitute working New York City's money guys.
MCD/Farrar, Straus & Giroux, $25, hardcover, 208p., 9780374279660
Left to Chance
by Amy Sue Nathan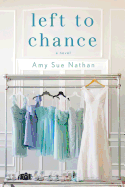 Teddi Lerner fled Chance, Ohio, after the funeral of her best friend, Celia, six years ago. Although she has created a very successful career as a wedding photographer in San Francisco, Teddi is still lonely. She burned a lot of bridges the night she left Chance, and hasn't kept in touch with any of her family or friends, except for Celia's daughter, Shayna. But her father, Miles, is getting remarried, and Shayna, now 12, is begging Teddi to come back to Chance to photograph her dad's wedding.

Teddi absolutely does not want to; she hates to think of Miles married to anyone but Celia. But she can't tell Shay no, so she reluctantly heads back to Chance. And there, to her surprise, she will discover new truths about herself, Miles, Shay and many more residents of Chance.

Exploring friendship and how grief twists some people apart and brings others closer together, Left to Chance is a thoughtful, gently paced look at how dramatically loss can change people. Amy Sue Nathan (The Glass Wives) has created a pleasant cast of small-town characters, a believably moody and nuanced preteen in Shay and a confused yet likable heroine in Teddi. A little romantic, and a bit sad, Left to Chance is a perfectly heartwarming tale about finding oneself and returning home again. Fans of Lauren Willig and Kristin Harmel are sure to enjoy this quietly gratifying story and its quirky little town.--Jessica Howard, bookseller at Bookmans, Tucson
Discover: In this tale of homecoming, a woman returns to the small town she grew up in, six years after fleeing it on the day of her best friend's funeral.
St. Martin's Griffin, $15.99, paperback, 288p., 9781250091116
Mystery & Thriller
Grist Mill Road
by Christopher J. Yates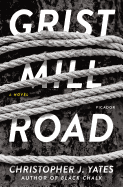 "I remember the gunshots made a wet sort of sound, phssh phssh phssh, and each time he hit her she screamed.... I just stood there and watched." That is quite an opening. The shock and tension could be difficult to sustain, but not for Christopher Yates (Black Chalk). The hits, metaphorical and physical, keep coming in this story of three young friends in 1982--Patrick, Matthew and Hannah--and what happens 26 years later.

When Patrick, known as Patch, was 12, he watched while Matthew repeatedly shot Hannah, who was tied to a tree. With the 49th and final BB shot through her eye, he declared her dead and left. But Patch realized that she was not dead and had not seen him, so he untied her and helped her down the hill.

In 2008, Hannah is a crime reporter in New York and married to Patch, who has lost his job in finance. As tough as Hannah is professionally, she relies on Patch to get her through her nightmares: "Don't let him hurt me.... You promise you won't let him hurt me?" He always comforts her, but doesn't promise--how can he, when he broke the promise 26 years ago? He's waited his whole life to make amends, to become the hero, but his life is now unwinding.

As for Matthew, he says, "Truth is seldom a lens, truth is a kaleidoscope, and I have my truth, too." Given three realities, Christopher Yates asks: What is truth? What is redemption? In the stunning Grist Mill Road, the answers are disorienting and surprising. --Marilyn Dahl
Discover: Christopher Yates's second novel is an electrifying story of three lives inextricably linked by deceit and misunderstanding.
Picador, $26, hardcover, 352p., 9781250150288
The Man in the Crooked Hat
by Harry Dolan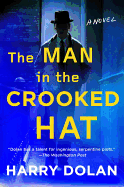 Jack Pellum is a former police detective in Michigan whose life was shattered when his wife, Olivia, was murdered 18 months earlier. Since then he's been posting flyers around town that ask whether anyone has seen a man in a crooked hat, a stranger Pellum spotted in his neighborhood shortly before his wife's death. The sighting happened at night, and that description is about all he has. Unsurprisingly, it hasn't yielded useful leads.

But after a local author commits suicide and leaves behind a cryptic note about a man in a crooked hat, someone contacts Pellum with new information. The caller claims not only to have seen the hatted man when his own mother was killed years earlier, but also to have files of other cases, dating back 20 years, in which witnesses reported seeing a similar man before someone died mysteriously. Pellum embarks on a mission to determine if the cases are related and finally to avenge his wife's death.

Though Pellum's search takes him a while, readers know right away who Harry Dolan's The Man in the Crooked Hat is--he's identified in the very first sentence. It's the mark of a confident author who believes he doesn't need to withhold the murderer's identity to engage his readers, and Dolan is right. The surprises lie in how Pellum catches up to the killer, the humane portrait of a man who's committed horrific acts, and in characters coming out the other side of grief to find they're still capable of hope. --Elyse Dinh-McCrillis, blogger at Pop Culture Nerd
Discover: A former police detective hunts his wife's killer, known to him only as a man who wears a crooked hat.
Putnam, $27, hardcover, 368p., 9780399157974
Food & Wine
The Reporter's Kitchen
by Jane Kramer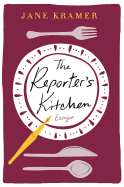 For longtime foodie and New Yorker staff writer Jane Kramer, cooking and writing are inextricably linked: a good essay parallels a satisfying dish in both composition and process. "The cooking that helps my writing is slow cooking," Kramer writes in the titular essay of her collection The Reporter's Kitchen. "You take control of your ingredients so that whatever it is you're making doesn't run away with you." For mental clarity, Kramer believes, "there is nothing to equal a couscous steaming in its colander pot, with the smell of cumin and coriander rising with the steam."

This assortment of Kramer's incisive, vivid New Yorker pieces is a veritable buffet: chef profiles (of Claudia Roden, Yotam Ottolenghi and others), musings on restaurants and food history (including a review of Bee Wilson's Consider the Fork), notes on foraging for Norwegian sea-grass and personal essays about her culinary experiences. Readers may recognize themselves in Kramer's admission, "I love cookbooks. I am addicted to them," and share her delight in the piles of them on her bedside table and her study's floor. Kramer's appetite for every aspect of food and food writing--interviewing a chef, hunting down an exotic ingredient, trying an elaborate recipe or pulling off an American Thanksgiving dinner in Italy (in July!)--is contagious. "There is a strong connection between women who write and women who cook and love recipes," she notes. Fortunately for her readers, Kramer is both, and her essays (like many good meals) at once whet and satisfy. --Katie Noah Gibson, blogger at Cakes, Tea and Dreams
Discover: Jane Kramer's first essay collection features an appetizing buffet of her pieces from the New Yorker.
St. Martin's Press, $26.99, hardcover, 304p., 9781250074379
Biography & Memoir

Balancing Acts: Behind the Scenes at London's National Theatre
by Nicholas Hytner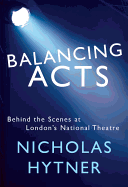 The National Theatre in London is one of the world's best. Balancing Acts is Nicholas Hytner's memoir of 12 years as its director and, more broadly, of his career, collaborations and friendships. During his tenure, he cut ticket prices, increased audiences, found new sources of funds and developed an international live-streaming series for cinemas. British theater, Hytner writes, has always been forced to "juggle substance with pleasure. Like the Elizabethan players, who rubbed shoulders with the bear pits and the brothels, we are part of the Entertainment Industry."

Hytner produced about 20 plays at the National each year, half of them new works. He alternates backstage dramas of production meetings, rehearsals and previews with close analyses of plays and evaluations of his own mistakes and misjudgments along the way. He tells stories behind the selection and development of many shows, including Jerry Springer: The Opera, Alan Bennett's The History Boys, the adaptation of Philip Pullman's His Dark Materials, Danny Boyle's Frankenstein and The Curious Incident of the Dog in the Night-Time, as well as a political play so topical that the National workshopped alternate versions and waited for a court verdict to decide which one would be staged.

Vivid anecdotes about some of the greatest figures in modern British theater will delight any theater buff. Maggie Smith, Helen Mirren, Ralph Fiennes and many others make substantial appearances. Balancing Acts also has plenty of appeal for anyone interested in how to make good art, attract large audiences and pay the bills at the same time. --Sara Catterall
Discover: In this entertaining and insightful memoir, a successful director of London's National Theater illuminates the work of creating good art, building audiences and paying the bills.
Knopf, $28.95, hardcover, 320p., 9780451493408
Gold Dust Woman: The Biography of Stevie Nicks
by Stephen Davis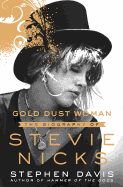 Forty-odd years ago, Stevie Nicks, the "Fairy Godmother of Rock," seemed to emerge from nowhere with a song about an old Welsh witch, "Rhiannon." The song has since become a classic, one of the most popular songs Nicks ever recorded with the British band Fleetwood Mac. With reverent care, Stephen Davis (Hammer of the Gods, about Led Zeppelin) closely examines Nicks's formative years, the struggles of her early, ascendant career, and how her emotionally charged affiliation with Fleetwood Mac changed her life. Her music--popular songs that deal with memories, dreams, romance, regret and the passing of time--corresponds to important aspects of the singer-songwriter's life. With that in mind, Davis deconstructs the music to trace Nicks's childhood and musical roots. He analyzes her tumultuous relationship with guitarist Lindsey Buckingham, and her cocaine-infused heyday in Fleetwood Mac, complete with juicy dramas about romantic entanglements in the band and affairs she had with others, including rock stars Don Henley and Joe Walsh. Furthermore, Davis considers the forces that ultimately empowered Nicks to take the leap and launch a solo career.

Meticulously presented details are fortified by quotes from Nicks, her family and friends and other musical cohorts. Davis documents, in depth, the influences--good and bad, the mystical and magical--that shaped the rock legend. He details how personal experiences of love, heartbreak and loss directly contributed to her astounding success and longevity in the limelight. Fans of Fleetwood Mac and Stevie Nicks will find much to savor in this intimate, comprehensive biography. --Kathleen Gerard, blogger at Reading Between the Lines
Discover: Rock journalist Stephen Davis documents the rise of singer-songwriter Stevie Nicks, solo artist and member of the iconic Fleetwood Mac.
St. Martin's Press, $27.99, hardcover, 352p., 9781250032898
Social Science
David Bowie Made Me Gay: 100 Years of LGBT Music
by Darryl W. Bullock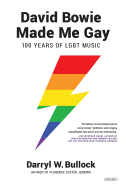 Darryl W. Bullock's David Bowie Made Me Gay is a comprehensive, illuminating and entertaining celebration of LGBT singers, composers, producers and musicians who created music over the last century. Bullock enhances these mini-biographies by placing them in context with historic advancements and setbacks in the quest for gay civil rights.

"Written histories have tended to straightwash the stories of the female pioneers of the blues," writes Bullock before correcting accounts of Bessie Smith, Gertrude 'Ma' Rainey and Billie Holiday in the 1920s and '30s. Bullock then profiles Noël Coward, Marlene Dietrich and Cole Porter. (Porter's 1941 song "Farming" is the first pop song to use the word "gay" to mean "homosexual.") The 1950s brings scandal sheets, arrests and lawsuits (amazingly, Liberace sued two newspapers who hinted he was gay and he won money from both publications).

Things loosen up in the 1960s when Little Richard, Lesley Gore and Dusty Springfield came out to the press. And while the Who's Pete Townshend and the Kinks' Dave Davies didn't come out until the '90s, they were both writing popular queer-themed songs in the 1960s. Bullock also covers multiple musicians in chapters on specific genres like women's music (Janis Ian, Joan Armatrading, Holly Near), country (Ty Herndon, Chely Wright and Drake Jensen) and disco (Village People, Sylvester, Divine, Jacques Morali). Bullock's sensational reference guide uncovers a lot of fascinating and unfamiliar queer history and shares it in an entertaining and breezy style. --Kevin Howell, independent reviewer and marketing consultant
Discover: This comprehensive, briskly paced and essential reference guide uncovers a century's worth of hidden history on LGBT music-makers.
Overlook Press, $35, hardcover, 320p., 9781468315592
Science
Reading the Rocks: How Victorian Geologists Discovered the Secret of Life
by Brenda Maddox
Like most scientific disciplines, geology was founded largely by wealthy gentlemen. But according to Brenda Maddox's fascinating new history, Reading the Rocks: How Victorian Geologists Discovered the Secret of Life, 19th-century women and clergymen changed the field forever with their findings.

Among the highlights is the chapter on Mary Anning, a girl of "low social class and poverty" who made her first discovery in 1811, at the age of 12. She sold her fossils, Maddox writes, to keep her mother "out of the poorhouse." She died at the age of 47 from breast cancer and was subsequently all but forgotten until the 21st century, when the scientific community began to recognize her enormous contributions to the field.

Equally intriguing is the chapter on Reverend William Buckland, remembered as much for his "popular and humorous" lectures and outlandish parties as his scientific discoveries. "Hedgehog and crocodile," writes Maddox "were among the delicacies he fed his guests.... He even claimed to have eaten the heart of King Louis XVI." Each of these outsider scientists, Maddox argues, contributed not only to our understanding of Earth's past, but to the body of knowledge needed to formalize evolutionary theory, which, in the Victorian era, "was still unmentionable in polite scientific society."

The author of five celebrated biographies (including those of Elizabeth Taylor and W.B. Yeats), Maddox brings each scientist to life, in all their failure and glory. Reading the Rocks is an invaluable addition to the literature of the history of science. --Amy Brady, freelance writer and critic
Discover: An entertaining and informative look at how little-known women and clergymen changed the field of geology forever.
Bloomsburg, $28, hardcover, 272p., 9781632869128
Children's & Young Adult

Chasing King's Killer: The Hunt for Martin Luther King, Jr.'s Assassin
by James L. Swanson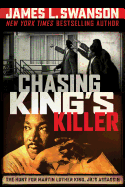 In Chasing King's Killer, the final, moving installment in James L. Swanson's hugely popular trilogy on the lives, last days and assassinations of three American heroes--Abraham Lincoln (Chasing Lincoln's Killer), John F. Kennedy (The President Has Been Shot!) and Martin Luther King, Jr.--readers are taken on a heart-in-throat exploration of the events leading up to and following King's assassination.

Chasing King's Killer takes an intense look at King's 13-year rise to national prominence. Using photos, diagrams and quotations, Swanson gives readers an in-depth, year-by-year account of the civil rights activist. As Swanson's report moves into King's final day of life--tragically cut short by an assassin's bullet--the text breaks the full 24 hours into minute-by-minute sections, slowing the events but quickening the pace of the narrative. Paralleling King's story is that of James Earl Ray, his life in and out of jail and his eventual capture after killing King. Swanson conveys (and obviously shares) the bewilderment of the world about what made Ray decide, seemingly out of the blue, to hunt King down and murder him. Featuring an exquisitely written foreword by Congressman John Lewis and extensive endnotes, this riveting book about the heartbreaking "collision course" of two lives should be required reading for all American teens. --Emilie Coulter, freelance writer and editor
Discover: Completing a trilogy on American heroes, James L. Swanson's Chasing King's Killer provides stunning, side-by-side accounts of the lives of Martin Luther King, Jr., and his assassin, James Earl Ray.
Scholastic, $19.99, hardcover, 384p., ages 12-up, 9780545723336
Before I Let Go
by Marieke Nijkamp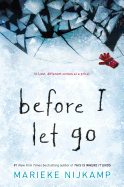 For Corey, Lost Creek, Alaska, population 246, is home. Reachable only by tiny plane or a single road and "[s]urrounded by nothing for miles," the members of the community are kept company by only "each other and the deep blue of twilight."
Corey fit perfectly into the framework of Lost, where "unpredictability has never been good." Her best friend Kyra, though, made the people of Lost nervous. Diagnosed with bipolar disorder, Kyra had manic episodes in which she "could lose herself in the woods for days." Although Kyra mostly maintains herself through mania by painting, the people of Lost are convinced she's dangerous. At least, that's how it was seven months ago, when Corey left Lost to attend boarding school. The two best friends lost touch--Kyra sent letters, Corey didn't respond--and now Kyra is dead.

Corey flies back to Lost, desperate to find out what happened to her friend, assuming the worst. But things have changed. The town now speaks about Kyra with something akin to adoration. "Lost gave her purpose," Kyra's mother tells Corey. "It set her heart and mind alight." Corey, on the other hand, is being treated like an outsider and a traitor. She has only five days before her flight leaves to figure out what happened: Why is the town speaking about Kyra as though she were a prophet? Was it suicide--or murder? And how are fresh salmonberry flowers blooming in the middle of January?

The claustrophobic, dark setting--along with disembodied voices, cultish townspeople and whispers of the supernatural--gives Before I Let Go a foreboding and intensely creepy feel. Short chapters and temporal switches hurtle this subtly terrifying mystery along, leaving readers as disturbed and desperate for answers as the frightened protagonist. --Siân Gaetano, editor children's and YA, Shelf Awareness
Discover: A young woman returns from school to attend her best friend's funeral and finds that something deeply sinister has taken place in her small Alaskan town.
Sourcebooks Fire, $17.99, hardcover, 368p., ages 12-up, 9781492642282